Photo Genealogy – Part 3
Old Photo Identification
Four weeks ago we started a series of posts regarding photo genealogy. For those of you who have been following along, you know the background. For those who are just seeing this blog series for the 1st time; I acquired a 19th century photo album of my own family. It has pictures from the 1860s to about 1930. This series of posts have documented what I've done to identify at least sme of the people in the photos.
Below are some relevant links to the series of blog posts.
Part 1 contains a detailed overview of the background and family group sheets. Part 2 contains a good portion of how to go about dating and determining who is in the pictures. The other posts are still unidentified photos of people from the album. This post will go through a number of additional images and how to go about identifying them.
The cabinet card below is that of a young man in a sailor's uniform. An unusual feature in this image was that it was located with a locket of red hair. Since we already knew the family groups involved it wasn't hard to pinpoint the most likely subject depicted within this photo.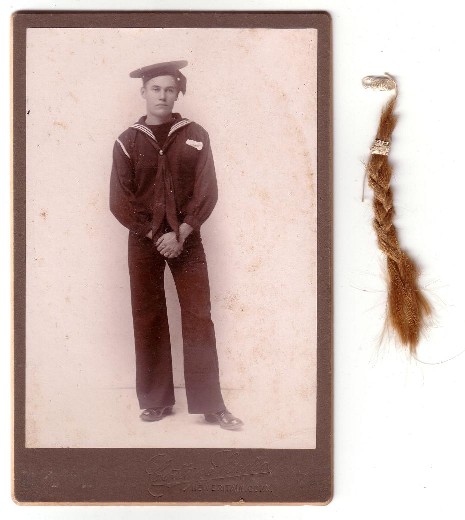 The photo is almost certainly that of Joseph James Sanders. This was the only son of Joseph Charles Sanders and Mary Agnes Fraher to be in the Navy. The only way to get a good indication of who is in this picture was to have a good understanding and to have done genealogical homework regarding the family.
The next photo has an interesting story. It appears to me to be a picture of a father and son. The man standing is obviously much older than the younger man sitting. Tucked right behind the image in the photo album was an anti-tobacco pledge card from 1903. It just goes to show you that even back in 1903 people must have known smokng wasn't good for you.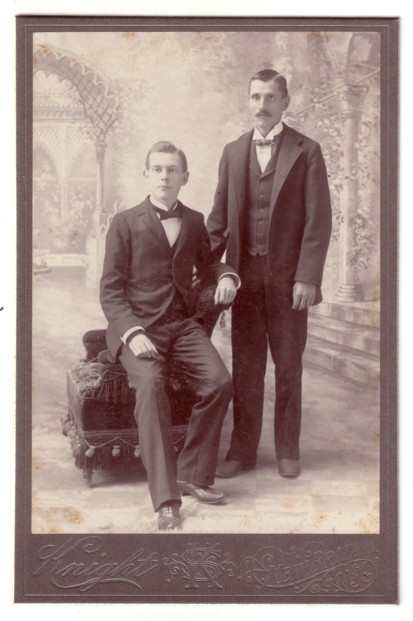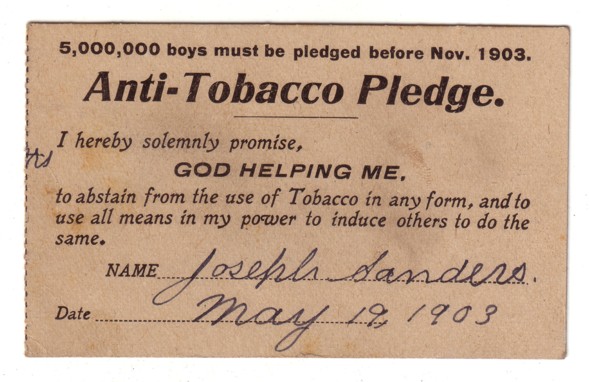 The anti-tobacco card was signed by Joseph (James) Sanders on May 19, 1903. He must be the younger man sitting. The facial features seem to match the young man in the sailor uniform to me which is additional confirmation. The older man must be Joseph Charles Sanders, which is Joseph James Sanders father. The ironic thing about the anti-tobacco pledge is that Jospeh James Sanders grandfather John Charles Sanders owned and ran a tobacco shop in New Britain for many years before he died in 1901. With all these common names James, Joseph, John, Charles, Sanders, it's gets to be almost a tongue twister keeping the family straight.
Above we just used another good method to help identify your old photos. You can gather all the photos which have already been marked or identified. Compare the photos which have been marked to unknown subjects in other photos.
Now let's look at the picture below. Look closely at the facial features. Pay particular attention to the eyes, nose and ears. The man below appears to be the same man as the man standing in the picture above. If you have pictures which appear to be the same person and you're not 100% sure who they are, make sure you mark them, print out a copy and put them in a folder (digital and/or hard copy).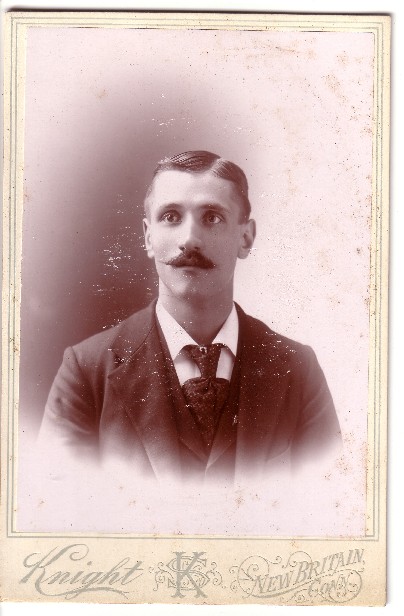 Notice the photographers imprint on the photograph. It's Knight Studio. Knight Studio started operating around 1890 and was in operation until at least 1908. The photographers imprint is a really good aid to date your photographs.
Knowing all that you can know about the potential family members in a photo can pay off when trying to identify likely subjects within a photo. Take the following photo and photographers imprint.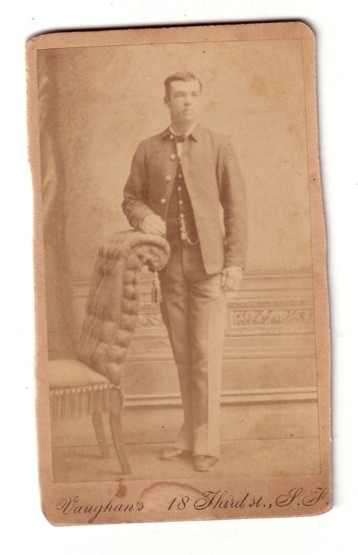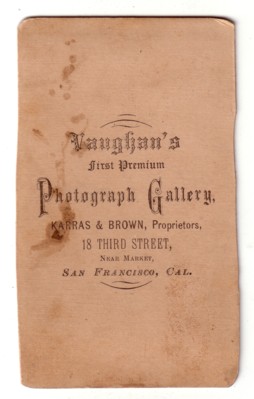 There's nothing really unusual about the photo or distingusiable. However, the photographers imprint says Sanfrancisco, California. This is very unusual as the home of all the family members in question was New Britiain, Connecticut, which is 3,000 miles away. One family member was known to be in San Francisco for a period of time. Joseph James Sanders (the same as the sailor pictured above) was in San Francisco for a period of time during his time in the Navy. Though not 100% sure, Joseph is the likely person in this photo.
Photo identification is going to be a lot about process of elimination as well as positively identifying the subject in the photo. Some of the photos in this post I'm not 100% sure of the subjects. We've gone through s process of elimination and determined the most likely subjects. I've been contacting some 2nd cousins of mine who are known to descend from Joseph James Sanders and who've had an interest in genealogy. Hopefully they will have a couple of photos of Joesph James Sanders at various ages and then we can be 100% sure.
We've covered a few more photos this week and gone through some methods of identification. In two weeks the next and last in this series of posts will be published. It will focus in on some still unidentified photos and the on-going process to identify them. Also don't forget to look at the Wordless Wednesday posts. These posts will also have photos from this album.