Finding Your Family History in Genealogy Message Boards
Genealogy message boards can be a fantastic way to further your research. You might end up meeting a previously unknown cousin or two. I found a second cousin of mine through a genealogy message board. Both of our mothers did not know about each other. Now they write to each other every so often. You also may be able to break a brick wall or just get some help for a specific problem. But how do you get the most out of a genealogy message board?
My first foray into Genealogy Message Boards was a number of years ago when I was just getting interested in genealogy. I reviewed my dad's research and started recording my wife's side of the family into a family tree program. I picked up a number of beginner genealogy books and read through them all. A lot of the books highly reccommended searching through and posting queries on a genealogy message board.
However, in order to take advantage of genealogy message boards, you will first need to find one. Below are some of more popular genealogy message boards around today.
You can also check out Cyndi's list to see if there are additional message boards which might be of interest to you.
The first thing you will want to do is to browse through the message boards for a surname, area or subject that you are researching. Read the posted messages and see the responses back. See the various formats of the queries for yourself. Pay attention to how the subject of the query is written. See the details provided in the response. See which ones have the best responses and learn from them. I learned a whole lot about how to post a search just by reading what worked for others. Now try to perform a search for your own ancestor. After you've searched for your own ancestor in the already posted queries, it's time to post your own query.
When you decide to post your first posting, there are a few things you might want to keep in mind. The first thing you will need to decide is what question in your research you'd like to get some help with. Which board is the most appropriate to post your query to? You might try a surname board or perhaps an area such as a county or state board. Once you've decided what question you want to answer and have found an appropriate board to post it to, you will now need to formulate the query. The first part of that is the subject or header for your query.
Here are a couple of dos and dont's for the subject of your query.
The Subject or Header of Your Genealogy Query
Dos:
Include SURNAME in capital letters
Include a first name
Include a location
Include a date
Dont's:
List only a surname in the header, especially if you're in a surname message board.
GOOD HEADER: SMITH, John died 1-Jan-1900, Springfield, MA -Obituary Lookup Please
BAD HEADER: John Smith
The next thing you will need to do is to write the message body of the query.
The Message Body of your Genealogy Query
Dos:
Provide detail about what you are looking for
Ask a specific question
Captialize Surnames
Limit your detail for three or four paragraphs
Dont's:
Don't ask for any or all information about an ancestor or surname. These will most likely be ignored.
Don't ask for more than one or two specific questions
Don't write so much detail that it takes pages and pages to go through.
Don't use many abbreviations. Some people who are viewing your post may not realize what your abbreviations is for.
GOOD DETAIL:
I'm looking for the obituary of my great grandfather John SMITH who died on 1-Jan-1900. He died in Springfield, MA. His wife's name was Jane and their children were John, James and Mary. He was about 70 years old when he died. Your help would be appreciated.
BAD DETAIL:
I'm looking for any details about John Smith from Springfield.
The good detailed listed enough information about the question (finding an obituary for John Smith) that was required. It lists his wife, children and the date and where he died. They will most likely also be listed in the obituary. The bad detail is looking for all information about John Smith, but which John Smith? When and where are you looking? Which Springfield? Obviously not enough detail was provided to get any guidence with for this query.
How will you know someone has responded to your query? Most genealogy message boards will send you an email when someone responds to your query. However, I would still reccommend you keep track of where you posted your queries in case you miss the email or it is lost for some reason.
You never know what type of information someone might help you find. I've had a lot of help with someone looking up an obituary for me in a library I just would not have been able to get to. I've had help with finding census records. Some others go way beyond what was asked for and provide clues and family history you never knew existed. When you do get a response even if they tried and didn't find anything make sure your thank them. Coming from experience they really do appreciate it.
Posting on message boards can lead to tremendous finds. Someone contacted me about a posting I left on a message board once. She had a 19th century family photo album. She was trying to find a descendant to return the photo album to a family member. It turns out I was indeed a descendant. It has more than 50 pictures including tin types and carte de visites. No one in my family ever knew about this photo album.
On the inset there's a written statement "presented to Miss Mary Fryher by Mr. Jos. C Sanders New Britain, Conn. September 24/1884″. Joseph and Mary are my great grandparents. They were both from New Britain, CT.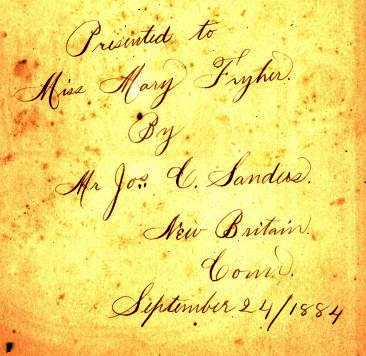 I will talk about this album and the pictures contained in this album on some future post. It's been an amazing journey to try to find out who is depicted in these photos. Below is just one of the tin type pictures from this album.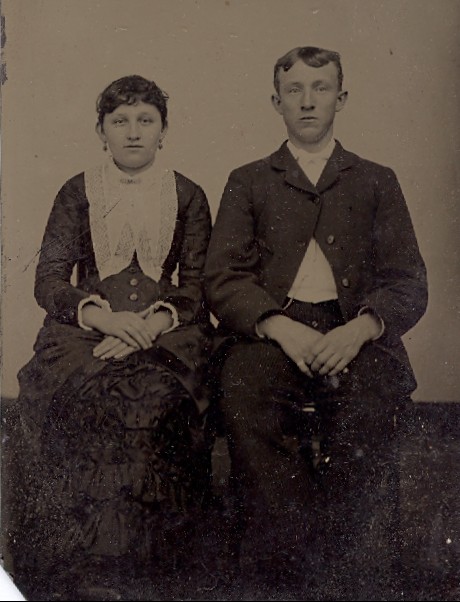 For now though, go to one of the message boards listed above. Find what genealogy treasures await you and what answers other researchers can help you with. Post a comment on this message board with your best tip for using a message board or perhaps some family heirloom which is now back in the hands of a descendant.