Welcome to the very first edition of Mystery Photo Monday. We are looking for your photos and want to help see if we can uncover some mystery behind your photo. Is that Great Aunt Tessie with some unknown fellow? Perhaps you don't know where or when the photo was taken? Each week I will post a photo which has some mystery behind the photo. We will examine the photo and look for clues. If you are interested in having your photo in an upcoming blog post, please email the photo to mysteryphoto@hiddengenealogynuggets.com. The photo should be no more then 500mb in size. A scan of both sides of the photo is helpful. Please let us know everything you know about the photo including;
Suspected surnames
Locations where the suspected surnames were from
Where the photo was taken, if known
When the photo was taken, if known
Size of the photo
What type of photo it is, if known
Any other pertinent information
Depending upon the number of submissions, it may be a while before your photo can be featured in a blog post.
—————————
Surnames: Fox, O'Day
Locations: New Britain, Connecticut
Type of Photo: Tin Type
Size of Photo: 2 3/8″ by 3 1/2″
Date of Photo: About 1890s
Observations: The large hats and dresses seem to suggest this photo was taken in the 1890s. The woman on the right seems to be holding something in her hand, though it's not detailed enough to make out what it is. She also has a moderate sized broach or pin right at the collar. The woman on the left is wearing some type of necklace but the photo is not detailed enough to make out any details on the necklace. No rings can be seen on either woman, which may suggest that neither woman was married.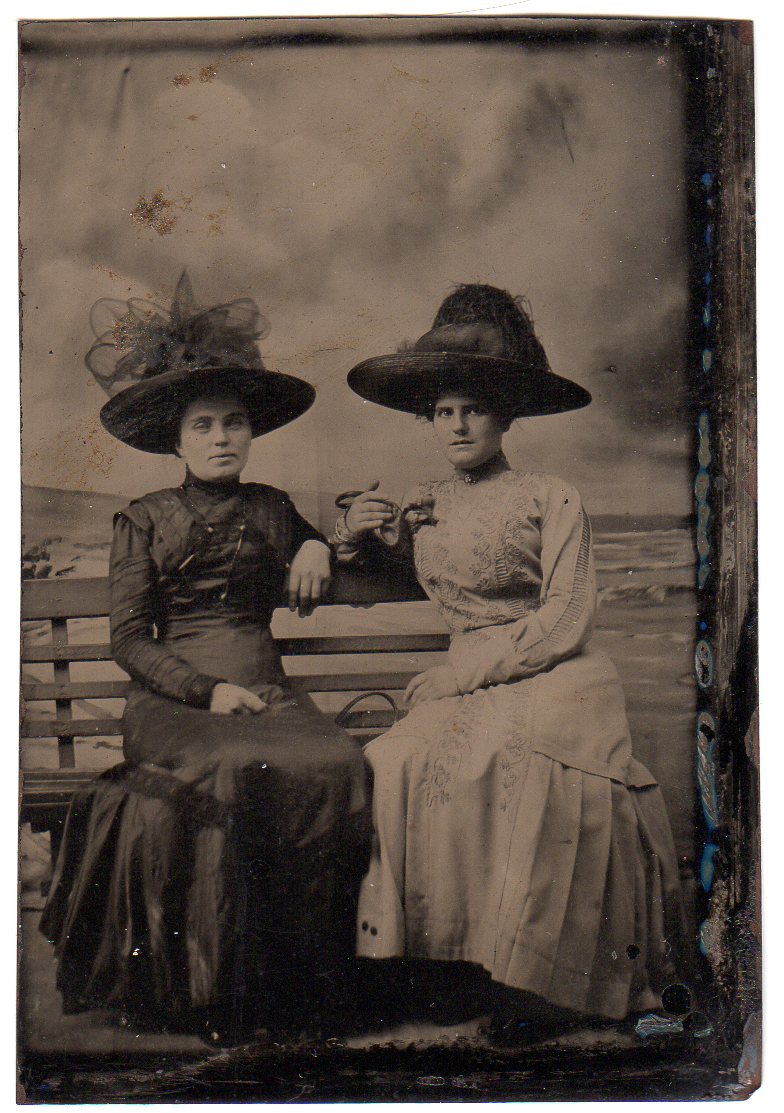 —————————
DIGITIZE YOUR OLD HOME MOVIES OR PHOTOS BEFORE THEY FADE
Do you have old home movies you'd like to digitize before they fade? Please visit my affiliated provider. They help keep this website running. Click on the link below.