As a continuation of this a series of blog posts about how to write your family history, this post is about using the US Census to write snippets about your ancestor. One way to write about your ancestor's life is to divide your writings into chapters. One chapter could be about places they lived and the census record gives you a good indication about that. City Directories (a topic for a future post about writing your ancestor's life story) if available, provide even more details about where your ancestor lived if they are available.
For earlier posts in this series see the following;
Want to know how many people lived in your ancestors town during a census year? Do a search on ancestry.com with only the town listed for the census year in question and indicate it has to be an exact match. Combine the census data with historical references about the town and you have the beginning of a great chapter in your ancestor's life. The following snippet is just a small sample of what you can write about your ancestor. You can add more details about the particular town in which he lived. Use the addresses from the Census record and get a photograph from today of the place your ancestor lived. Better yet, if you can find a photo near where your ancestor lived at the time your ancestor lived use that (with permission of course if it's still under copyright).
——————–
Residences of Edwin A Banks – Civil War Soldier
——————–
In 1850 when the census was taken, The Town of Seneca in Ontario County, New York had about 8,500 people living there. A town that size would need a tailor or two and may have kept Edwin's father busy, being that he was a tailor. At four years old, Edwin and his twin brother Edward would not have been old enough to go to school yet. They would have to wait another year or two.
While Seneca may have been a thriving larger sized town, Edwin's early teenage years started in Newtown, Fairfield County, Connecticut. This was a much smaller town. Only about 3500 people were living in Newtown at the time the 1860 Census was taken. Three generations were living in the household. Edwin's maternal grandparent Orrin and Sarah Shepard, Edwin's mother Jane plus the twin boys Edwin and Edward. Orrin Shepard was a farmer and it's likely that Edwin and his twin brother Edward worked a little on the farm.
Along some of the rivers which ran through Newtown, there were several small industries. Several small hat shops developed and larger hat factories were in the neighboring towns of Bethel and Danbury. Edwin's mother Jane was a milliner and likely worked at a small hat shop in town or one of the larger factories in Bethel or Danbury.
After the civil war, which Edwin participated in, he lived in the thriving city of Hartford, Connecticut with more than 38,000 people living there when the 1870 Census was taken. This number would grow to more than 42,500 in within ten years. Edwin was living as an electrotyper in the 1870s. He must have been making a pretty good living for the time. The value of his personal state in 1870 was $1,500, which was more than the value of most other peoples family. In 1880 Edwin, his wife and their three children are living at 21 Harrison Ave. His mother-in-law Mary McKeown is also living with them.

It is unclear what made Edwin and his family leave Hartford. In 1890 Edwin is living in Revere, Massachusetts. Revere is near Boston and was a small coastal town. With the completion of a railroad in town, Revere was rapidly growing in population. It had a population of about 5,500 residents in 1890.
Living in Brooklyn must have been like any other place Edwin lived at during his lifetime. By 1910, there are over 1.5 million people living there in 1910. He's living at his son's place at 2109 Pacific Street. Two grandsons, Alfred and George are also in the household as is the mother of his son's wife Kate Wilson. He is still working as an elctrotyper and his son Alfred took up the same profession.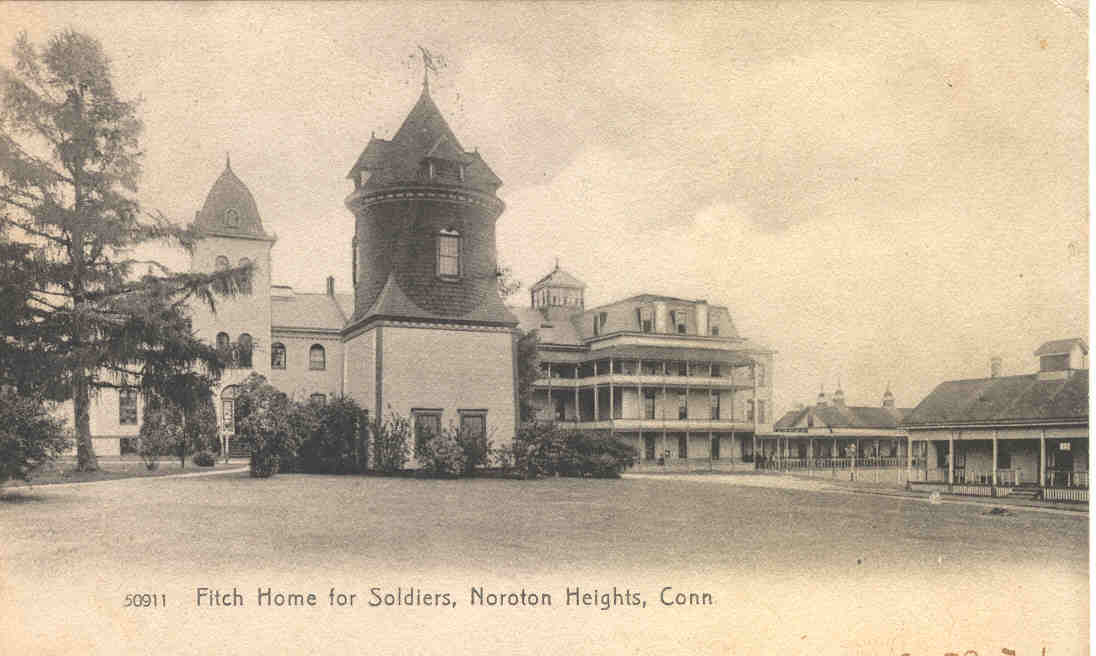 By 1920 Edwin is living in Darien, Connecticut. Darien is a small town in lower Fairfield County, Connecticut. There are a little over 4,000 people living there. He's living at a home for old civil war soldiers.
——————–
Sources
——————–
1) "1850 United States Census", database, http://www.ancestry.com
, entry for Edwin Banks, Seneca, Ontario County, New York, accessed 2015
2) "1860 United States Census", database, http://www.ancestry.com
, entry for Edwin Shepard, Newtown, Fairfield County, Connecticut, accessed 2015
3) "1870 United State Census", database, http://www.ancestry.com
, entry for Edwin Banks, Hartford, Hartford County, Connecticut, accessed 2015
4) "1880 United State Census". database, http://www.ancestry.com
, entry for Edwin Banks, Hartford, Hartford County, Connecticut, accessed 2015
5) "1890 United State Veterans Census", database, http://www.ancestry.com
, entry for Edwin Banks, Revere, Suffolk County, Massachusetts, accessed 2015
6) "1910 United State Census", database, http://www.ancestry.com
, entry for Edwin Banks, Brooklyn, Kings County, New York, accessed 2015
7) "1920 United State Census", database, http://www.ancestry.com
, entry for Edwin Banks, Darien, Fairfield County, Connecticut, accessed 2015
8) Newtown Historical Society, Newtown in the Nineteenth Century , A Brief History of Newtown, by Dan Cruson
9) City of Revere Massachusetts Website, Brief Historical Background Revere Society for Cultural & Historic Preservation