Writing a Family History – Military Monday – Civil War Service Records
As the first of a series of blog posts about how to write your family history, this post is about using the Civil War Service records to write snippets about your ancestor. Civil War Military Service Records are rather a unique set of records. While they may not have a lot of information about your ancestors relatives, it provides a great source for writing about your ancestor. Using my ancestor Edwin A. Banks, I will outline various types of documents you will find in civil war service records.
————–
Using the civil war service record and a regimental history, I was able to write the following about my ancestor. You may never be able to tell for certain whether your ancestor was at a certain battle. However, you can get a very good indication that he was if the company muster rolls list him as present and no other documents indicate he was away from his unit. You could embellish the writing below to talk more about specific battles and how his unit participated in the battle. Perhaps that will be another part of this series of posts.
————–
Edwin Banks being 5′ 2″ tall with brown hair, a light complexion and hazel eyes volunteered for the civil war on January 2, 1864 in New Haven, Connecticut. He was a farmer who was originally from the town of Newtown, Connecticut. He mustered into the service on January 29, 1864 and was a private of the 2nd Connecticut Heavy Artillery unit.
After the start of Edwin's service, he likely participated in garrison duties at Fort Worth, Fort Williams and Fort Ellsworth. These forts were south of the Potomac River and were defending Washington DC. On May 17th 1864 the 2nd Connecticut Heavy Artillary was ordered to join the Army of the Potomac in the field. Over the next month and a half the unit was in action at Spottsylvania, North Anna, Totopotomoy, Hanover, Cold Harbor, Petersburg and Jerusalem Plank Road. On July 10, the unit was moved back to Washington DC where they repulsed Early's attack on Washington.
From August through December the unit took part in Sheridan's Shenandoah Valley Campaign. They saw action at Battle of Opequan, Fisher's Hill and the Battle of Cedar Creek. They took part in the Siege of Petersburg, Dabney's Mills and Hatcher's Run. They also took part in the Appomattox Campaign and participated at the assault on and fall of Petersburg, Pursuit of Lee, Sailor's Creek and Appomattox. Edwin's unit was there during the Surrender of Lee and his army. Edwin was most likely present at all of these battles and skirmishes including the surrender of Lee and his army as he was marked present on all company muster rolls. The only time it appears he spent away from his unit was when he left to go to a hospital on May 2, 1865. He was discharged from Douglas General Hospital in Washington DC and returned to his unit on June 20, 1865. Shortly after his return, it is further noted that he was "On daily duty as worker Reg. Hd2d since June 28/65″. Edwin would have missed the corp review which happened on June 8, as he was in a hospital in Washington. Edwin was mustered out of service on August 18, 1865.
Most service records will contain the volunteer enlistment form.
Typical Data from a Volunteer Enlistment form
Town and State of where he was born
His current occupation
A signature of your ancestor
When and where he enlisted
Mustered in Date
A brief description of your ancestor (eye color, hair color, complexion and height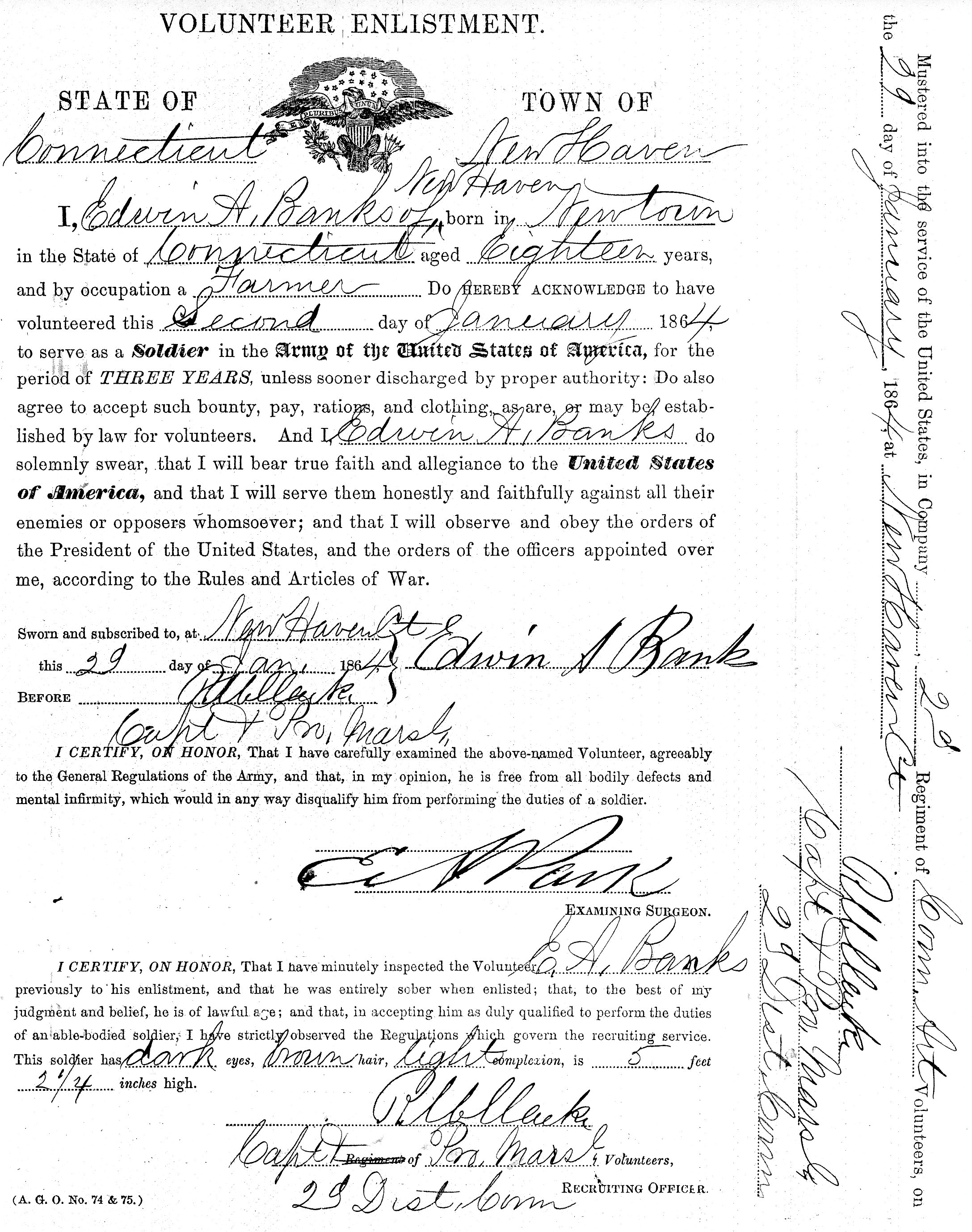 A document you will almost always find is either Muster and Descriptive Roll and/or Company Descriptive Book. I'm lumping these two documents together as they have the same type of information on both record types. Not every piece of data is found on both document types. Be sure to look at each and every one of these documents. My Edwin Banks is described as having dark eyes in most descriptions. One description indicates his eyes were hazel which is a dark color.
Typical data in a Muster and Descriptive Roll and/or Company Descriptive Book
Rank
Unit, where and when enlisted
Period of Enlistment
Bounty Paid
A brief description of your ancestor (eye color, hair color, complexion and height
Age and where he was born
Occupation
Sometimes notes if he received advanced payment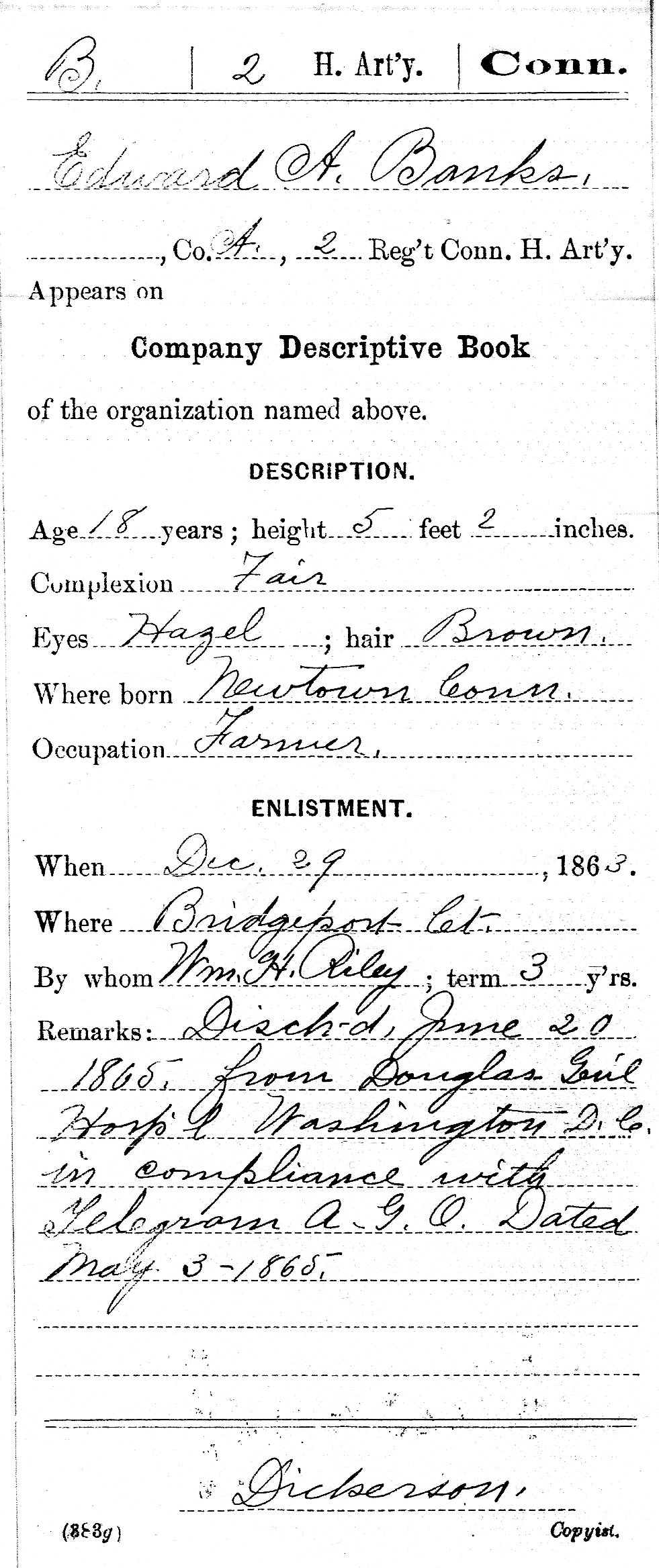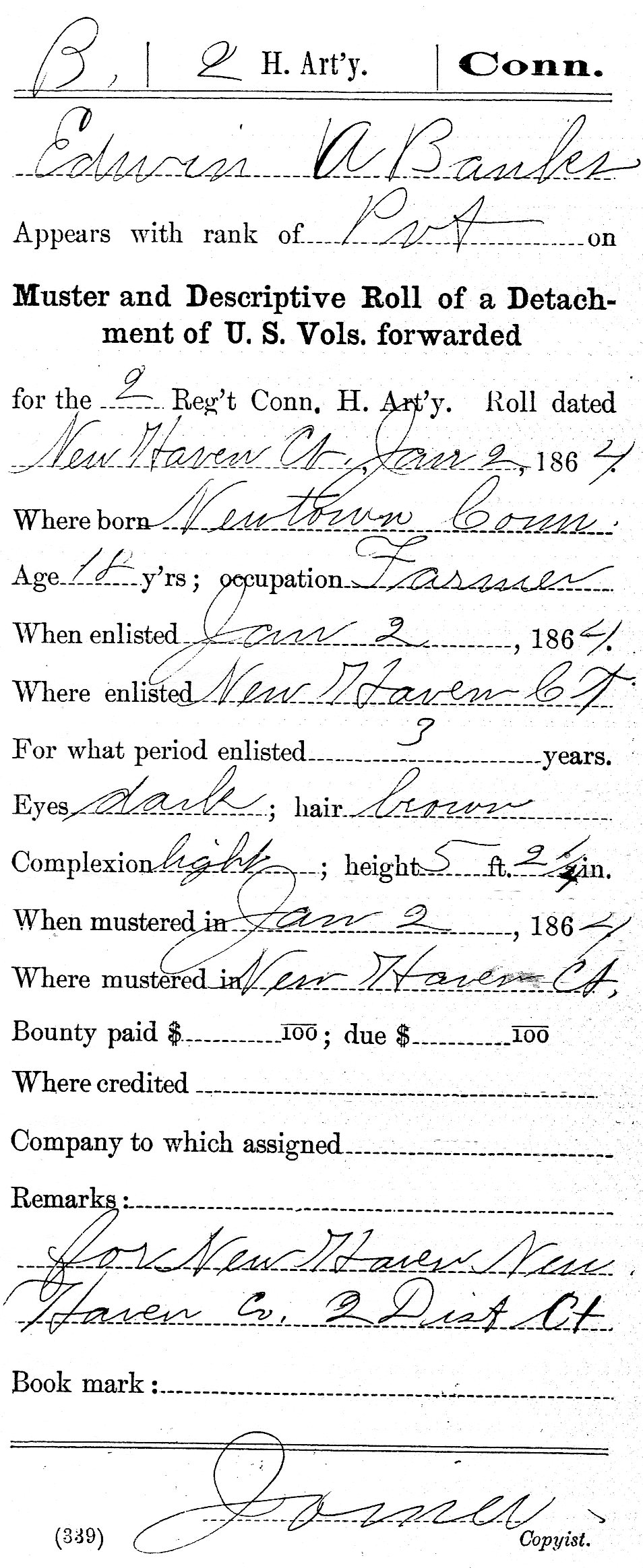 Another common document you will find in the service records are company muster rolls. Every two months a roll call would be taken to see who was present and who was absent. If your ancestor was absent for some reason, it will most likely say where he was and when he left. It might be that he was at a hospital, which was very common. Using this information and a regimental history, you may be able to get a good idea which battles your ancestor likely fought in.
Typical Data in a Company Muster Roll
Present or absent when the roll call was taken
If absent, a description of why he was absent and when he left
If any bounty was due to the soldier
If any money was due to the Federal Government from the soldier (stoppage)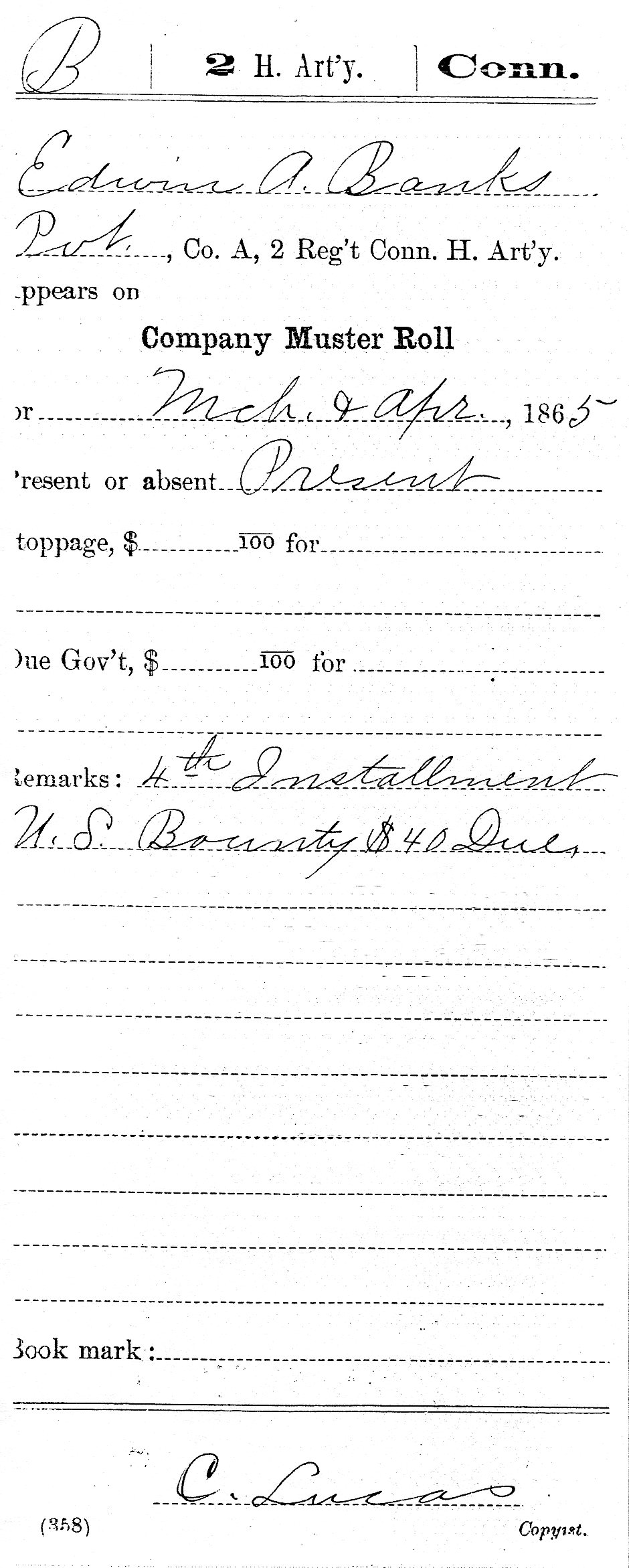 You will usually find a muster-in roll and/or muster-out roll.
Typical Data in a mustet-in roll and/or muster-out roll
Rank
Regiment
Where mustered in/out
Total bounty (money) due the soldier, less any the soldier owes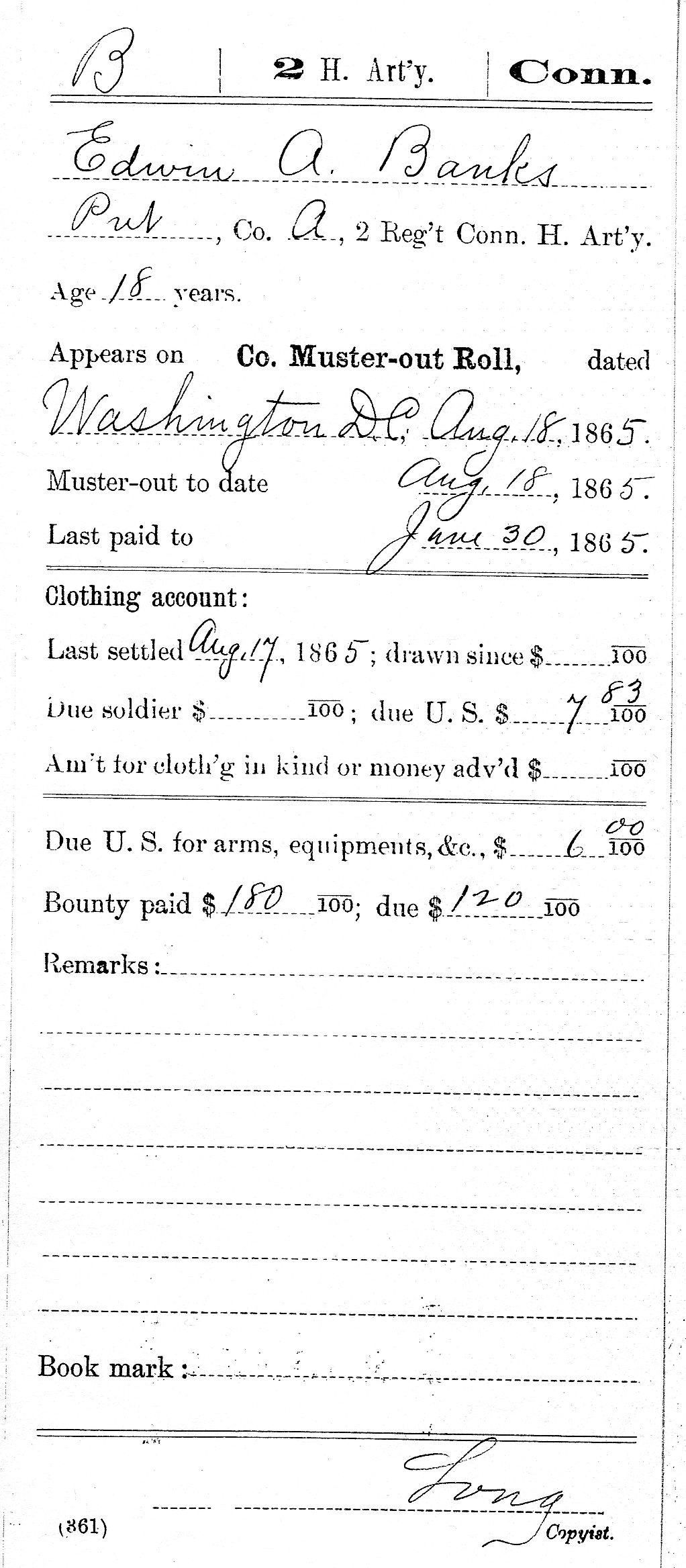 Another document you might find in your ancestors service records are "returns". Is your ancestor was away from his unit for some reason and then returned to duty, this document might provide some insight.
Typical Data in a Returns document
When he left the unit and for what reason
When he returned to duty and where he was coming from

Additionally there could be other documents in your ancestors civil war service file. Some of these documents may include a consent in case of a minor, a document detailing the capture of the soldier and his parole, documents pertaining to the death of a solder and a whole lot more.
—————–
Source List Entries for resources
—————–
1) Civil War Service Records, Department of Veterans Affairs, Record Group 15, National Archives, Washington DC
2) National Park Service, Regimental History, www.nps.gov/civilwar/search-battle-units-detail.htm, accessed March 6, 2015, 2nd Connecticut Heavy Artillary