Genealogy by the States – Week 3 – New Jersey
This week's blogging prompt is the State of New Jersey. Blog about an ancestor or your families connection to New Jersey. If you don't have any connections to New Jersey, find a New Jersey resource useful for genealogy research to highlight and write about. This week's prompt runs from 1/20/2013 – 1/26/2013. If you choose to follow along, I would appreciate a mention to the Hidden Genealogy Nuggets website.
————————————
Henry Lewer Sanders 3rd great grandfather, He is the first Sanders of my line in the United States of America. He died in Jersey City, New Jersey. 9-Mar-1864
Henry Lewer Sanders was born in about 1799.  He was most likely the son of Bartholomew Sanders and Charlotte Lewer.  There is a baptismal record of a Henry Sanders or Sauders or Lewer, born in 1799 to a Bartholomew Sanders and Charlotte Lewer at Holborn of the London Metro area.
Barbara Anne Warwick was born in about 1799.  Nothing is really known about Barbara Anne Warwick's parents or siblings.  Henry and Barbara were married at St. George, Hanover Square on 17-Jun-1824 in the city of London, England.  Henry and his family came to U.S.A. on the Bark "Hymen"in 1838 after sailing 66 days. His wife Barbara and four children came with him.  ( Henry, Frances, John and William).  A fifth child, Margaret Mary Sanders is presumed to have died in England.
Ship's Manifest (1)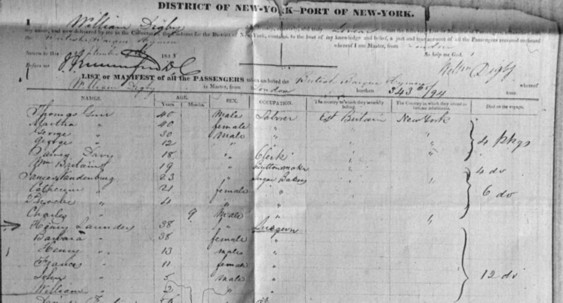 Henry  practiced as a physician in the lower New York City area. In 1840 the family was out in the country, Ward 12, New York, NY.    The census page shows the occupation of 57 persons and 34 of those were in agriculture.  He was listed as a Physician in the New York City directory of 1844 address and was at 32 Walker Stand.  He belonged to the Anglican Church. In 1845 his address was 143 Leonard St.  Following the death of his first wife Barbara in 1844, he married Mary Fall at the Trinity Church in New York City.  She was twenty years younger than he.
1845 NYC Directory (5)


1848 NYC Directory (5)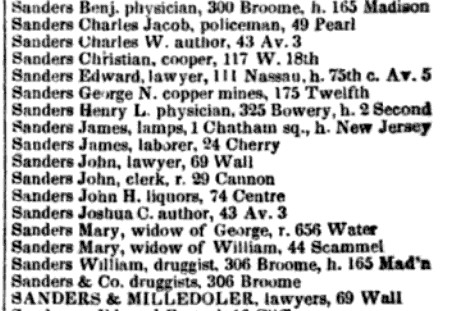 In 1853 they moved uptown to Washington Heights (Amsterdam Ave. & 151-152 Street) A newspaper ad noting his services as a physician appeared in the New York Herald dated May 4, 1854. He practiced medicine there until his death in 1864. He was buried in the parish ground of the Trinity Church cemetary at 153rd St. & Amsterdam Ave.At the timeof death he lived in Jersey City, 211 S. 7th St. Sometime after 1864 the street numbering system was changed in Jersey City.  S. 7th St. became 2nd Street and there was no longer a designation of N. or  S..  In a letter of May 19, 1975, May Sanders Boyd said her fathers middle name was Lua (grandson of this Henry L. Sanders) , and that it may be that the same middle name was perhaps the name of this Henry L. Sanders.
Children of Henry Lewer Sanders & Barbara Anne Warwick
1. Henry Sanders, b. 1824 in England, d. 31-Mar-1889 in New York, NY, m. Frances Clara Smith in 1859, b. 14-Oct-1834 in New Brunswick, Canada, d. 21-Feb-1882 in New York, NY, both are buried in St. Michael's Cemetery,  E. Elmhyrst, Long Island,   New York
2. Frances Augusta Sanders, b. 1826 in England, d. 27-Feb-1896 in Brooklyn, NY, m. Rafael Joseph Valdivia on 14-Feb-1844 at Trinity Church in New York, NY, b. 1810 in Havana, Cuba, d. 13-Jul-1869 in Brooklyn, NY. Rafael is buried in Suffield, CT.  Frances is buried in Brooklyn (Lutheran Cem.) Middle V
3. John Charles Sanders, b. 23-Mar-1834 in England, d. 7-Jan-1901 in New Britain, Connecticut. m. Mary Clark Tripp on 8-Sep-1861 in New Bedford, MA, b. 21-Aug-1842 in Fairhaven, MA, d.11-Apr-1907in New Britain, CT.  both are buried in Fairview Cemetery in New Britain, CT.
4. William Sanders, b. 1835 in England.  d. Unknown
5. Margaret Mary Sanders, b. 23-Apr-1835 in England, d. presumably in England prior to 1838
—
Children of Henry Lewer Sanders & Mary Fall
1. Edward Sanders, b. May-1849 in New York, NY, d. 3-Jun-1919 in New York, NY, m. Anna E. Warren in 1871 in New Jersey, b. Jan-1855 in Jersey City, NJ, d. 6-Dec-1910 in New York, NY, Edward is buried in Kensico Cemetery, Valhalla, NY
2. Alice Sanders, b. Apr-1854 in New York, NY, d. 1-Nov-1922 in Englewood, NJ, m. Richard S. Holdenby in 1870, b. 29-Jun-1845 in Kingston, Ontario, Canada, d. 5-Aug-1919 in Englewood, NJ, Alice is buried in Greenwood Cemetery, Brooklyn, NY
3. Jessie Adams Sanders, b. 23-Dec-1856 in New York, NY, d. 30-Oct-1933 in Brooklyn, NY, m. William C. Moore on 23-Jun-1885 in Jersey City, NJ, b. 25-Jul-1855 in Jersey City, NJ, d. 19-Feb-1923 in Brooklyn, NY, Jessie is buried in Greenwood Cemetery, Brooklyn, NY
=======
Sources:
1. Ships Manifest Record : 1838, British Barque Hymen
2. Book: The Register Book of Marriages belonging to the parish of St. George, Hanover Square, (Pub. 1897), Pg. 11, 17-Jun-1824 marriage between Henry Lewer Sanders and Ann Barbara Warwick.
3. 1850 United States Census: New York Ward 17, New York, New York; Roll: M432_555; Page: 50A
4. Various IGI Records from familysearch.org
5. New York City Directories on books.google.com
6. Information recorded by William Alfred Sanders gathered during his lifetime of research
7. Ancestry.com. New Jersey, Deaths and Burials Index, 1798-1971 [database on-line]. Provo, UT, USA: Ancestry.com Operations, Inc., 2011. Original data: "New Jersey Deaths and Burials, 1720–1971." Index. FamilySearch, Salt Lake City, Utah, 2009, 2010. Index entries derived from digital copies of original and compiled records.
8. Information recorded by my father William Alfred Sanders.
9. History of the Sanders Family by Edward Sanders of Geneva, New York
================================
A Few New Jersey Genealogy Links
================================
———————————–
Search New Jersey Newspapers at NewspaperArchive.com
New Jersey Newspaper Archives at GenealogyBank

———————————–