Genealogy by the States – Week 2 – Pennsylvania
This week's blogging prompt is the State of Pennsylvania. Blog about an ancestor or your families connection to Pennsylvania. If you don't have any connections to Pennsylvania, find a Pennsylvania resource useful for genealogy research to highlight and write about. This week's prompt runs from 1/13/2013 – 1/19/2013. If you choose to follow along, I would appreciate a mention to the Hidden Genealogy Nuggets website.
————————————-
I have a few connections to Pennsylvania. One of the closest links is through my great aunt Ella Josephine Doyle.
Ella Doyle was the seventh of twelve children of John and Esther Doyle. She was born on 6-Nov-1885 and was baptized in the Roman Catholic parish of Kiltoghert in Leitrim County Ireland. Esther's father died when she was just about 12 years old. She set sail on the Majestic and arrived on Ellis Island on May 29, 1902 and moved to Bristol, Connecticut.
She married Daniel Edmond Salmon on 23-Feb-1909 in Bristol, Connecticut. Below is a copy of the wedding announcement.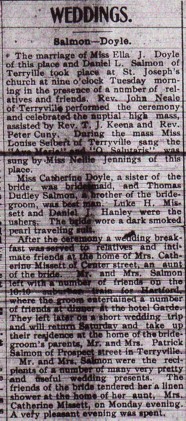 By the 1910 United States Census Daniel and Ella moved to Waterbury, Connecticut. By 1920, the couple moved to the Bronx, New York where they were enumerated in the 1920 census along with two of their children, Leona and Daniel. They were living at 5 Whitlock Avenue. By 1930, the family moved to Philadelphia, PENNSYLVANIA where they were enumerated in the 1930 United States Census. At that time, they were living at 462 North Sixty Fourth Street, which they owned and was valued at $8,000. At the time of the 1940 United States Census, they are still living at the same address in Philadelphia. By that time, their daughter Leona had married Thomas Bergin. Thomas and Leona Bergin were living with Danial and Ella. There are two different Ella Salmon's in Philadelphia in the 1940 census, so it was important to look at both to make sure it was the right Ella.
Daniel and Ella celebrated their Golden Wedding anniversary on February 23, 1959 at Our Lady of Lourdes Roman Catholic Church in Philadelphia, Pennsylvania. She died on 24-Jul-1971 in Philadelphia, Pennsylvania.
Here's a photo of Ella (Doyle) Salmon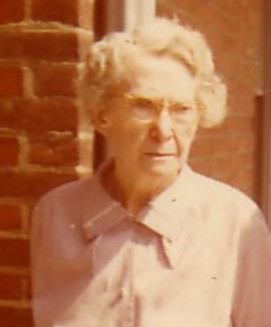 Here's a photo of Daniel and Ella's Children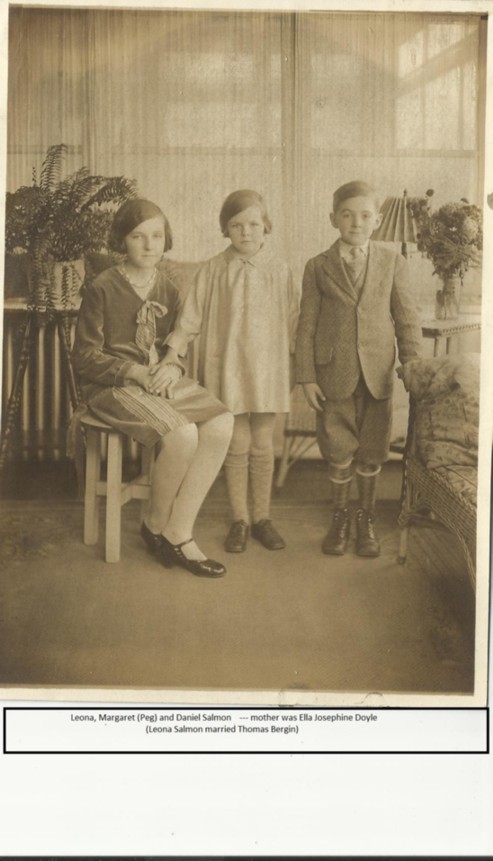 Children of Ella Doyle:
1. Leona Mary Salmon
2. Donald Edmond Salmon
3. Margaret Mary Salmon
Sources:
1. 1901 Ireland Census: Carrickslavan, Gowel, Leitrim, household of Ester Doyle
2. 1910 United States Census: Waterbury Ward 1, New Haven, Connecticut; Roll: T624_140; Page: 13B; Enumeration District: 464
3. 1920 United States Census: Bronx Assembly District 3, Bronx, New York; Roll: T625_1133; Page: 2A; Enumeration District: 175
4. 1930 United States Census: Philadelphia, Philadelphia, Pennsylvania; Roll: 2120; Page: 24A; Enumeration District: 451
5. 1940 United States Census: Philadelphia, Philadelphia, Pennsylvania; Roll: T627_3723; Page: 1A; Enumeration District: 51-1114
6. www.ellisisland.org
7. Information recorded by my father William Alfred Sanders about Daniel and Ella Salmon.
8. Photos in possession of the author's family, Jim Sanders, Oxford, CT
9. Various newspaper clippings
===========================
A few Pennsylvania Genealogy Links
===========================