Military Monday – Civil War Pension Records
Last Monday we saw what type of information you might find within a Civil War Service record. This week we will explore what hidden genealogy nuggets may be contained within a Civil War Pension record. Either a Civil War Soldier or wife would be able to file for a pension. On rare occasions, even a mother or father would be able to file for their deceased son.
Civil War Pension for Nicholas Laurie,
Widow of John D. Laurie, 10th Connecticut Infantry
John Douglas Laurie enlisted in company E of the 10th Connecticut Infantry. This unit was one of the most successful of all the units in the Civil War from Connecticut. John was wounded and captured in a batlle on Dabrytown Road in Virginia on October 13, 1864. He was paroled a few days later and died of his wound on November 3, 1864. This left his wife Nicholas to provide care for five Laurie children and herself.
Nicholas (Martin) Laurie applied for a Widow's Army Pension. She had to prove that she and John were actually married and that the five children were John's. This proved to be a somewhat difficult task. John and Nicholas were married in Scotland. There first two children were also born there. A third child was born at sea as Nicholas was coming to the United States.
In the civil war pension file there were papers which were copied onto nineteen legal sized pieces of paper. One of the documents in the pension folder was the family bible entries for each of their John and Nicholas' children. The bible enties list the date of each birth and where they were born.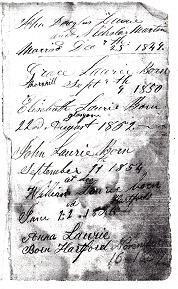 There were various affidavits testifying to the fact that John and Nicholas cohabitated like husband and wife. There was an affidavits from a reverand who baptised a few of the Laurie children in the United States.. Many of the documents were hand written and difficult to read.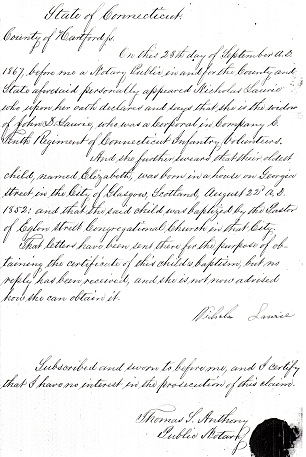 Here are some facts pulled from the pension file.
John Douglas Laurie married Nicholas Martin on 28-Dec-1849 in Thornhill Dumfrieshire
Grace Laurie b. 9-Sep-1850 in Thornhill, Scotland.
Elizabeth Laurie b. 22-Aug-1852 in Glasgow, Scotland
John Laurie b. 11-Sep-1854 at sea
William Laurie b. 22-Jun-1856 in Hartford, Connecticut, USA
Annie Laurie b. 16-Nocv-1857 in Hartford, Connecticut, USA
Ultimately Nicholas' pension was approved. However she did not get credit for her oldest child while the amount of here pension was determined.
Civil War Pension for Edwin A. Banks,
2nd Connecticut Heavy Artillery
Edwin A. Banks served with his twin brother Edward A. Banks in the 2nd Connecticut Heavy Artillery during the civil war. He applied for and received a pension for his service in the early 1900s. A wealth of information was contained in his civil war pension records. A lot of the information was already known, but a number of additonal facts were learned. Edwin's pension file consisted of sixteen legal sized pieces of paper. Each document in the file has the potential to contain just that missing piece of evidence you need. From one original declaration for pension document, the following facts can be attained. You will need to read and re-read each of the documents from the pension file.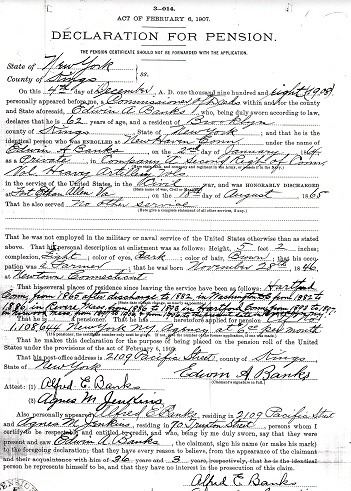 Military Service:
He enrolled on 2-Jan-1864 in New Haven, Connecticut.
He was a private in Company A, Second Connecticut Heavy Artillery.
He was honorable discharged at Fort Ethan Allen, Virginia on 18-Aug-1865.
He did not at any other time serve in the military.
Places of residence:
Edwin lived in Hartford, Connecticut from 1865 after being discharged until 1882.
He lived in Washington, DC from 1882 to 1886.
He lived in Revere, Massachusetts from 1886 to 1893.
He lived in Hartford, Connecticut from 1893 to 1897.
He lived in Norwood, Massachusetts from 1897 to 1906.
He lived in Brooklyn, New York from 1906 to 1908.
On 4-Dec-1908, he was living at 2109, Pacific Street in Brooklyn, New York, the same address as Alfred E. Banks (his son).
Physical Description:
He was 5 feet 2 inches tall, had a light complexion with brown hair and dark colored eyes.
I had not known before that Edwin had moved to Washington DC. It happened in between the census and I had not found city directories to look for. Because the pension records put Edwin in Washington DC, I found he was working for the Federal Government. I was even able to find out how many hours he worked one year and what he got paid per hour. All that addiitonal information I would not have been able to find if it had not been for his pension record.
Here are just a few additional facts contained within Edwin's Pension file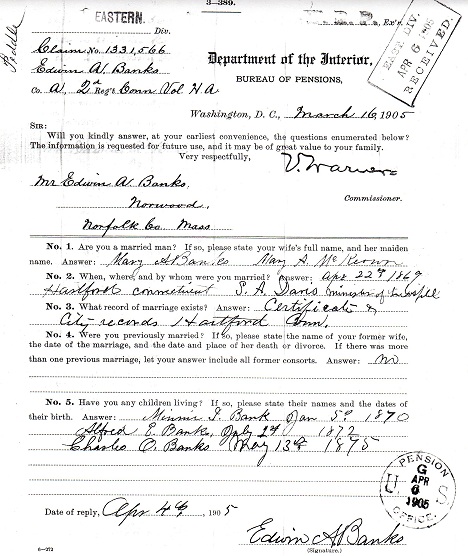 He was born on 28-Nov-1846.
He was married to Mary A. McKeown on 22-Apr-1869
He had three and only three childrem. The birth dates of his children are listed.
Various resident addresses are listed for various points in his life including after 1908.
He was unable to earn a support by 11-Feb-1905 due to a heart condition and rhumatism.
His pension started out at $6 per month and increased a number of times.
By 1918, Edwin was receiving a pension of $38 per month.
If you have civil war ancestors, order the full civil war pension file. You can hire a professional from the area to get them for you. You can save a lot of money this way and get the records a lot sooner than ordering them through NARA. There are a lot of hidden genealogy nuggets in civil war pension files.