Genealogy by the States – Week 1 – Delaware
This week's blogging prompt is the State of Delaware. Blog about an ancestor or your families connection to Delaware. If you don't have any connections to Delaware, find a Delaware resource useful for genealogy research to highlight and write about. This week's prompt runs from 1/6/2013 – 1/12/2013. If you choose to follow along, I would appreciate a mention to the Hidden Genealogy Nuggets website.
——————-
I do not have a lot of connections to Delaware. The closest connection to Delaware is my through my Great Uncle Joseph James Sanders.
Joseph James Sanders was the second of eight children of John Charles Sanders and Mary Agnes Fraher. He was born on 21-on Nov-1889 in New Britain, Connecticut. Joseph was married to Margaret Yost on 12-Oct-1911 in Wilmington, New Castle DELAWARE (The connection to Delaware). Joseph was born on 12-Nov-1889 in New Britain, Hartford County, Connecticut. He joined the Navy in about 1908. During the 1910 US Federal Census, he is listed as a member of the USS Rhode Island. This is the only relative I've ever seen who has been enumerated on board a navy ship.
Below is a snippet from the Delaware Vital records of his Delaware marriage.


Here he is in his sailor's uniform.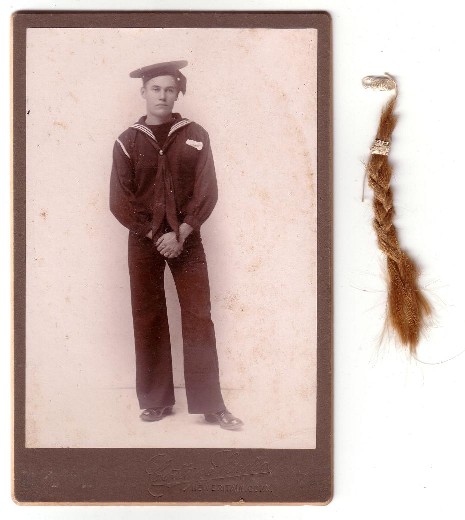 James and Margaret had two children. Edward William Sanders born was 7-Mar-1913 in New Britain, Connecticut. Joseph James Sanders was born on 16-May-1914 also in New Britain, Connecticut.
—————-
The following passage is from notes my dad (William Alfred Sanders) made during a personal interview he had with Theresa M. Sanders . (She was the wife of Edward Sanders who compiled the history of the Sanders Family.) I corrected some grammatical errors and added punctuation to make the passage more readable.
—————-
Joseph James Sr. started working in 1904 at the age of 14. He worked fifty nine hours a week in a machine shop for $3.85 per week. As an apprentice in 1905 at age 15 he made 50 cents per day with a 10 hour day and worked for Corbin Motor Vehicle. He enlisted in the navy in 1908 and spent his first six months at Newport, Rhode Island, training station. In June 1908 he transferred to the USS Prairie, a transport taking 500 sailors and 600 marines to Panama, where he saw them digging the Panama Canal.
He went overland and then boarded the USS Buffalo to San Francisco where he transferred to the battleship USS Illinois for a trip around the world. The route was to Honolulu, Sidney Australia, Melbourne Australia, Aukland New Zealand (then Amoy), China,the Phillipines, Ceylon, Port Said, To Messina in Italy in 1909. In Messina they aided in the rescue of earthquake victims and were awarded the Italian Red Cross Medal. Then on to Gibralter and home to Hampton Roads, Virginia. The crew was selected to participate in the inaugural parade of President William Howard Taft. They then proceeded to Boston, Ma were the Illinois was decommissioned.
He then joined the USS Rhode Island for three winters in Guantanimo Bay in Cuba. when he transferred to the USS Iowa in Philadelphia he took a midshipman cruise to Gibralter, France, Germany and Norway. Later to Queenstown, Ireland and England. Joe left the navy on January 29, 1912 having attained the rank of QM-3C (signalman). After marriage he worked as a lock inspector at Russel & Erwin in New Britain making 9 dollars a week which was a good pay in those days. They moved to Philadelphia in 1915 and Joe went to work as a toolmaker becoming a foreman and staying there for 10 years. He then was employed by Franklin Arsenal of the US Army in 1937 until his retirement in 1954. When he left he was foreman of the Artiliery Tool Room.
—————-
Children of Joseph James Sanders and Margaret Yost
1- Edward William Sanders
2- Joseph James Sanders
Sources:
1- 1900 United States Census: New Britain, Hartford, Connecticut; Roll: 139; Page: 12B; Enumeration District: 0213
2- 1910 United States Census: USS Rhode Island, US Navy, Military and Naval Forces; Roll: T624_1784; Page: 7B; Enumeration District: 0096
3- 1920 United States Census: Philadelphia Ward 33, Philadelphia, Pennsylvania; Roll: T625_1625; Page: 3B; Enumeration District: 1105
4- 1930 United States Census: Philadelphia, Philadelphia, Pennsylvania; Roll: 2117; Page: 49A; Enumeration District: 1183
5- 1940 United States Census: Philadelphia, Philadelphia, Pennsylvania; Roll: T627_3727; Page: 14B; Enumeration District: 51-1271.
6- United States World War I Draft Registration Cards, Joseph James Sanders
7- United States World War II Draft Registration Cards, Joseph James Sanders
8- Photograph in possession of the author, Jim Sanders, Oxford, Connecticut
9- Social Security Death Index: Joseph Sanders, April 1969
10- Ancestry.com. Delaware Marriage Records, 1806-1933 [database on-line]. Provo, UT, USA: Ancestry.com Operations, Inc., 2010.
Original data: Delaware. Delaware Vital Records. Microfilm. Delaware Public Archives, Dover.
11- Notes from a personal interview William Alfred Sanders had with Theresa M. Sanders (She was the wife of Edward Sanders who compiled the history of the Sanders Family)
========================
A few Delaware Genealogy Links
========================