Town reports can be a tremendous find when looking for information about your ancestors. I have found a lot of hidden genealogy nuggets within town reports especially town reports from the mid to late 1800s. More than just town officials are located within this report. The towns poorest residents were listed as they often received monetary support from the town. The town often needed to pay for the burial of someone who died and couldn't afford the burial costs. This may be the only evidence of your ancestors death in some cases.
Old town reports may be kept within your local town hall. Check with your town clerk. They may also be kept at your local historical society or even your local library.
The image below is from the 1891 Town Report from Seymour, Connecticut. For towns which did not have a cityor town directory, this type of report may be used to help create a census substitute.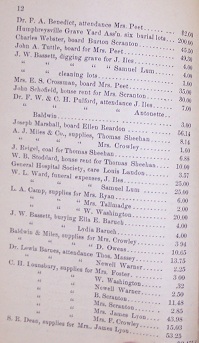 Here are a few highlights from this page;
J. W. Bassett digging grave for J. Iles 4.00
J. W. Bassett digging grave for Samuel Lum 4.00
W.B. Stoddard house rent for Thomas Sheehan 10.00
As you can see there can be some very helpful information about your ancestor. I've found about 10% of of a small town's population are listed within a town report. If you do find your ancestor listed in one years town report look for the other years.
Below are some entries about my ancetsor Patrick Fraher/Fryher. Those of you who are regular readers of this blog will know a little background about him.
1870 New Britain Connecticut Town Report


1871 New Britain Connecticut Town Report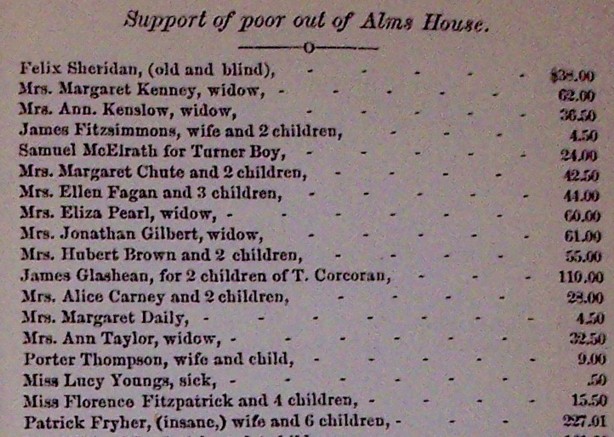 1873 New Britain Connecticut Town Report


Patrick Fryher was a Civil War Veteran who was discharged due to a disability. Apparently he hit his head during training and was in and out of insane asylums for the better part of his life after the civil war. He moved to New Britain, Connecticut in about 1869. The town reports confirm his insanity and that his family received support from the town out of the poor house.
One additional item I overlooked until I was writing this blog was an entry in the 1871 New Britain Town Report. That entry was "James Glashean, for 2 children of T. Corocran … 110.00″. A great great aunt of mine was married to a James Glashean in New Britain, Connecticut. I would have never had expected him to be listed in the Poor House section of the report.
So look for town reports where your ancestors lived. You'll never know what hidden genealogy nugget you will discover in them.
—————————————————————————
Christmas Gift Idea: Buy the genealogist in your a subscription to ancestry.com